The Africa Days, organised by the International Seasons intercultural programme series of the University of Pécs, took place again this year, from 24 to 28 April, with several cultural events, exhibitions, performances and concerts. The 8th Pécs African Studies Conference was part of the Africa Days and was held from 27 to 28 April, focusing on Afro–Asian, in particular, Africa–China relations in the post-COVID era. Programmes related to Africa Days: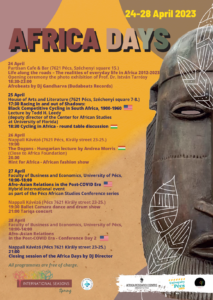 Life along the Roads" – Everyday African Realities 2012-2023 Prof. István Tarrósy, Africa researcher and university professor, opened his first solo exhibition on Africa as part of the Africa Days. István Tarrósy first visited Africa in 2000, when he spent a few weeks in Tanzania and Egypt. Since 2000 he has been working on Africa, researching, writing and teaching about Africa. His research mainly focuses on sub-Saharan African countries, issues and processes, supported by field research. Since 2006, he has been regularly returning to the special landscapes and localities of Africa, to the very different corners of this diverse and fascinating continent, where he is captivated by the unique reality of human relations and the coexistence of humans and nature in general. For him, it is a medium in which it is always good to be 'in', to which it is so good to return, and from which it is so difficult to escape.
Associate Professor Todd H. Leedy from the University of Florida came to Pécs for the Africa Days. The U.S. expert's lecture focused on cycling in South African cities, using archival press sources to reconstruct pieces of a little-known story.
The presentations of the 8th Pécs African Studies Conference can be viewed by following the links below:
27 April 2023, morning sessions:

27 April 2023 afternoon sessions:

28 April 2023: