6th Pecs African Studies Conference – September 23-24, 2021 – University of Pecs
PROGRAM
Attend the event on the spot and/or via Zoom!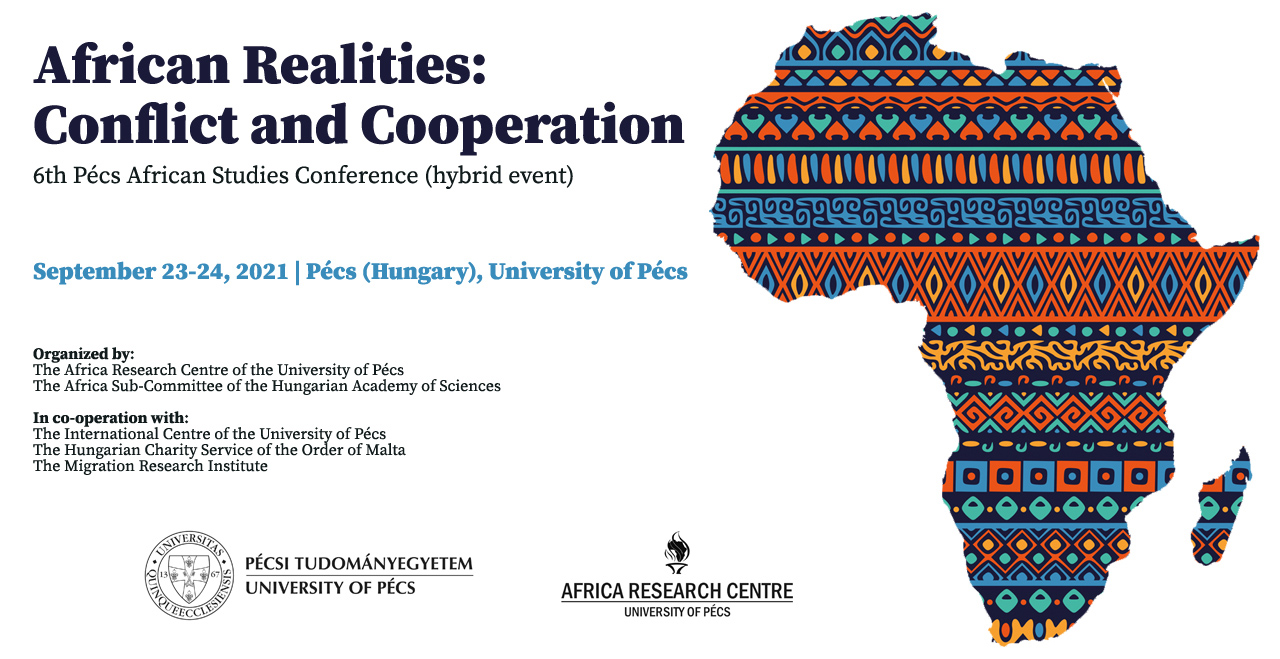 September 23, Thursday
Zoom-link to this day's meeting:
https://us02web.zoom.us/i/81101268249?pwd=aEVSYnR6RHgvekZvOU9mVXVydlpOUTO9
Meeting ID: 811 0126 8249
Passcode: 345112
09:30 – 10:00 Onsite registration (Library and Knowledge Centre (Tudaskozpont), University of Pecs, Universitas utca 2/A.)
10:00 – 10:30 Welcome addresses (Lecture Theater F311, Ground Floor)
10:30 – 11:10 Keynote lecture: Prof. Mohamed Salih (SD-NL), Africa and the Decline of Democracy Debate
followed by a Q&A until 11:30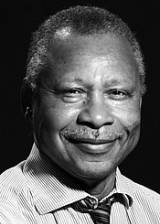 Mohamed Salih (PhD in Economics and Social Science, University of Manchester, UK, 1983) is Emeritus Professor of Politics of Development at the International Institute of Social Studies of Erasmus University Rotterdam in the Netherlands. His recently published books, among his many publications, include A Political Economy of the Development of Asymmetrical Regionalism in Africa, co-authored with Professor Wil Hout, Edward Elgar, Cheltenham, 2019. He authored Economic Development and Political Action in the Arab World, London and New York, Routledge, 2014, and edited Local Climate Change and Society, New York, Routledge, 2012.
In his talk, Prof. Salih will argue that the debate on the decline of democracy is not new. It can be traced to the period between the 1st and 2nd World Wars and resurfaced during the 1970s, followed by the most spectacular democratic resurgence in human history. The lecture focuses on the current debate on the decline of democracy and downward trends in major democracy assessment indices. Africa fared among the worst three world regions, with 42% of the African countries are designated as not free.
Measuring the decline or rise of democracy only by the performance of institutional politics is partial, argues the lecture. Institutional politics does not account for the resilience and thriving new spaces where democratic vibrancy and civic engagement prevail. Examples from African countries demonstrate that democracy indices based on institutional politics alone do not count for alternative democratic spaces and practices.
11:30 – 12:50 Panel 1
Chair: Istvan Tarrosy (HU)
Focus on the Horn of Africa
11:30 – 11:45 Jan Zahorik (CZ), The Rise and Fall of Pan-Ethiopianism and Pan-Somalism and Why It Is Relevant for Our Understanding of Current Affairs in the Horn of Africa
11:45 – 12:00 Balks Szelinger (HU), The Ethiopia Utopia: How Not to Build a State (the recent conflict, and beyond)
12:00 – 12:15 Alemayehu Kumsa (ETH-CZ), The Root Causes of Contemporary Regional War in the Horn of Africa
12:15 – 12:30 Ahmed Abduletif Abdulkadr (ETH) & Gyorgy Ivan Neszmelyi (HU),
Causes and Consequences of the Ongoing War Between TPLF and the Federal Government of Ethiopia
12:30 – 12:50 Q&A debate
12:50 – 14:00 buffet lunch
14:00 – 15:00 Panel 2
Chair: Balks Szelinger (HU)
Crises, conflicts and their management: Cases from South Africa and Kenya
14:00 – 14:15 Gabor Big. (HU), Fortress South Africa? Winner or loser in the process of globalization?
14:15 – 14:30 Neo Sithole (SA), On Anarchy in Africa: A short recap & reflection 14:30 – 14:45 Felistus Kinyanjui (KE), Towards Enhancing Conflict Management in Northern Kenya: The Case of Marsabit County
14:45 – 15:00 Q&A debate
15:00 – 16:00 Panel 3
Chair: Dominik Kopinski (PL)
Financial resources and services, and the issue of debt
15:00 – 15:15 Judit Kiss (HU), Who Finances Whom? The Controversial Role of External Financial Resources in Africa
15:15 – 15:30 Collins Formella Nkpnwo (CR), Africa's Future in Growing Internal and External Debt
15:30 – 15:45 Szabolcs Pasztor (HU), How Is Mobile Banking Putting Africa on the Map of the Global Financial Services?
15:45 – 16:00 Q&A debate
16:00 – 16:30 coffee break
16:30 – 18:15 Panel 4
Chair: Daniel Solyrnari (HU)
Africa, China–Africa relations and the COVID–19 pandemic
16:30 – 16:45 Hajer Trabelsi (TN), Bolstering Africa's Fight Against COVID-19: Initiatives and Challenges
16:45 – 17:00 Zoltan \Toros (HU), China's COVID-diplomacy in Africa
17:00 – 17:15 Douglas Mpondi (ZW-USA), The COVID-19 Pandemic and the Interplay of Information and Politics in Zimbabwe
17:15 – 17:30 Xenia Sipos (HU), Evaluating the Impacts of COVID-19 on Women: The Example of Morocco and Tunisia
17:30 – 17:45 Dominik Kopinski (PL), China and the Troubled Prospects for Africa's Economic Take Off: Linkage Formation and Spillover Effects in Zambia
17:45 – 18:15 Q&A debate
September 24, Friday
Zoom-link to this day's meeting:
https://us02web.zoom.us/i/81435660826?pwd=K3loTIBhS0tuczBZeXU4VnVBdWxNQT09
Meeting ID: 814 3566 0826
Passcode: 405121
09:00 – 10:00 Panel 5
Chair: Mohamed Salih (SD-NL)
Security challenges, Jihadists and questions of stability
09:00 – 09:15 Viktor Marsai (HU), Under Siege: The Attacks of Jihadist Groups Against Military Bases in Sub-Saharan Africa
09:15 – 09:30 Judit Goa) (HU), In the Shackles of Instability: Challenges of Operation Barkhane in the G5 Sahel Countries
09:30 – 09:45 Klaudia Toth (HU), The Impact of Jihadist Groups on the Security Status of the Lake Chad Basin
09:45 – 10:00 Q&A debate
10:00 – 11:00 Panel 6
Chair: Viktor Marsai (HU)
Reforms, urban slums and Hungarian engagements in Kenya
10:00 – 10:15 Benson M.O. Agaya (KE), Institutional Reforms, Social Justice and the Search for Ethnic Reconciliation and National Unity in Kenya
10:15 – 10:30 Daniel Solymari (HU) & Rahel Czirjak (HU), The Hungarian Charity Service of the Order of Malta in Kenya: Lessons of an Ongoing Research
10:30 – 10:45 Janos Beseny6 (HU), Hungarian Volunteers in the Spanish Foreign Legion 10:45 – 11:00 Q&A debate
11:00 – 11:30 coffee break
11:30 – 12:15 Panel 7
Chair: Jan Zahorik (CZ)
Diasporas and Europe-Africa relations
11:30 – 11:45 Diana Sfetlana Stoica (RO), PESEC Analysis on Cooperation and Conflict Possibilities between African Diaspora in Europe and New African Immigrants
11:45 – 12:00 Istvan Tarrosy (HU), Hungarian Footprints and the Involvement of the Diaspora in Sub-Saharan African Countries
12:00 – 12:15 Q&A debate
12:15 – 13:15 Roundtable on Central and Eastern European Diaspora Connections in South Africa: Possibilities of Cooperation and New Research
Participants: Nikolai Vukov (BG), Stefan Cibian (R0), Oksana Pyatkovska (UA) and Dzvinka Kachur (UA-SA)
Moderator: Istvan Tarrosy
13:15 – 13:30 Closing
13:30 – 14:30 buffet lunch
With any specific question, please, contact the conference hotline email: africaconf@pte.hu
Also, be informed that the 6th Pecs African Studies Conference is part of the AFRICA WEEK of the 2021 International Autumn intercultural program series of the University of Pecs. Several cultural activities and events can be visited and enjoyed during the week September 20-24, 2021. Please, follow the Facebook­site of the event series here: